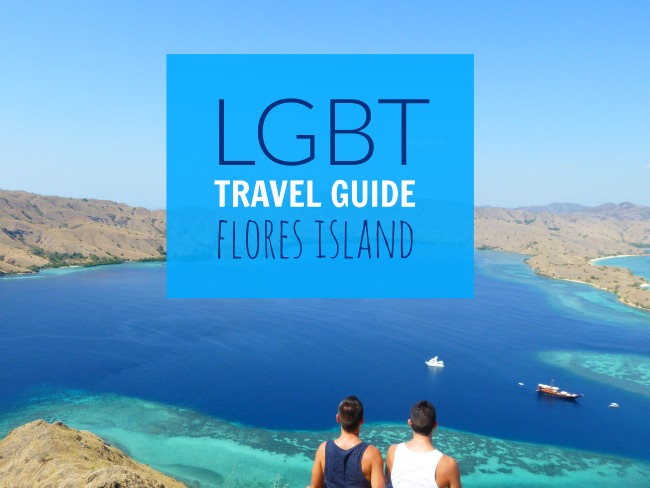 Get ready for the sharks and the almighty dragons! This is a gay-friendly travel guide to Labuan Bajo and the island of Flores, the base for the mind-blowingly incredible underwater world of Komodo National Park. Check out this article by our friends Nomadic Boys called "Gay Labuan Bajo: The ultimate travel guide to Flores Island as seen on Nomadic Boys Blog:
WHERE IS FLORES ISLAND?
Flores is located in East Nusa Tenggara on the Southern end of Indonesia, between Lombok and Papua islands. The waters around the island form part of the Coral Triangle, containing one of the richest marine biodiversity on the planet: a true paradise for divers.
Oh and did you know Flores means flower in Portuguese? It originates from the large Catholic influence brought over by the Portuguese colony in the 1511-1846. Flower island – another reason to love this place.
LABUAN BAJO: THE GETAWAY TO KOMODO ISLAND
Labuan Bajo is a fishing town on the western side of Flores island used as a tourist base for trips to the Komodo National Park. What used to be a small fishing village is now a bustling tourist center with its own airport and daily flights to Bali. Labuan Bajo is also a good base to visit the rest of Flores island, which is abundant with village life, caves, mountains, and beautiful waterfalls.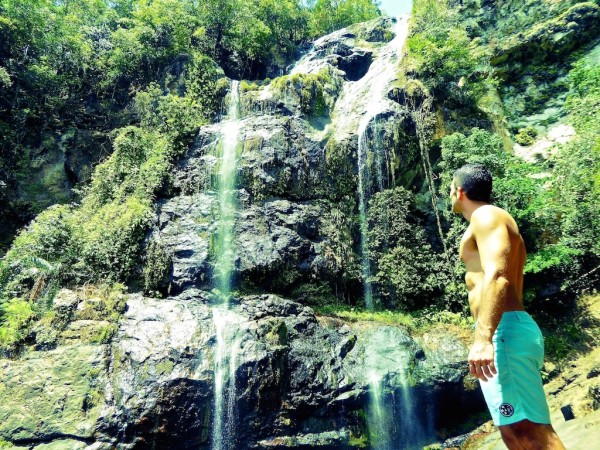 1. Find gay-friendly accommodation in Labuan Bajo
The diving schools will usually offer discounted accommodation if you choose one of their packages. There were 3 places that stood out for us and were very welcoming towards us as a gay couple:
BLUE MARLIN KOMODO
We did our dives with Blue Marlin and decided to stay with them. Their deluxe rooms are modern, comfortable, with a delicious breakfast and private balcony. Deluxe rooms cost 950,000 rupiahs (£45/$70) a night.
Blue Marlin also offers 4 bed dorm rooms at 150,000 rupiahs (£8/$11) per person, or 120,000 rupiahs (£6/$9) a night if you dive with them.
BLUE PARROT
Beautiful and small Bed and Breakfast with a very friendly owner. Located higher up in the mountains, it is close enough to the city centre but far from all the noise.
The breakfast is plentiful and delicious. Prices start from 650,000 rupiahs (£30/45$).
THE PLATARAN KOMODO RESORT
High end option with large, spacious beach front villas and incredible views overlooking the sea.
Great for couples looking for that romantic, postcard perfect island holiday.
Prices start from 2,060,000 rupiahs (£100/$160).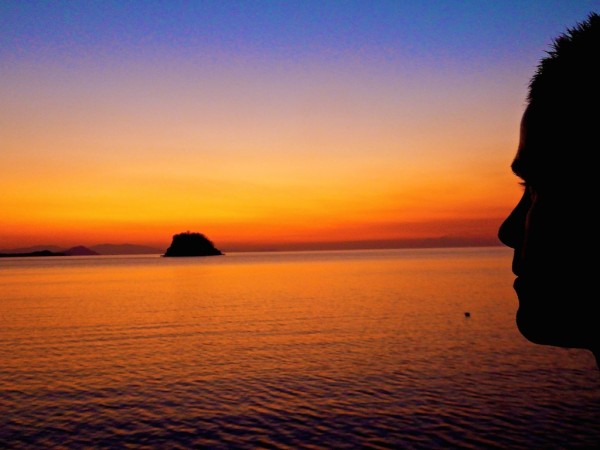 2. Where to eat in Labuan Bajo
There were a number of decent places around Labuan Bajo to eat, depending on what you prefer:
Blue Corner: good for local food like gado gado and mee goreng.
Happy Banana Sushi: popular for sushi and rated as the #1 restaurant by Tripadvisor.
Made In Italy: very popular Italian restaurant and highly rated for its pizzas.
La Cucina: another Italian, famous for its pastas and excellent coffee.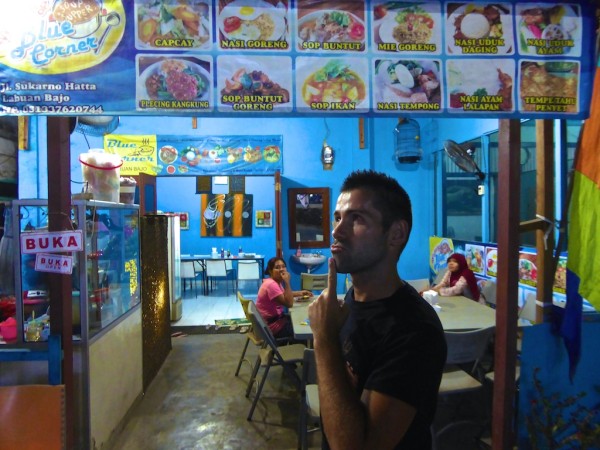 3. Where to go out in Labuan Bajo
Let's get one thing straight(!) – just as we experienced at Senaru Village on Lombok island, don't come here expecting pink mania frenzy. There's none. However, there is a very mixed, international crowd, predominantly into scuba diving and/or involved with tourism. These were the most happening hangouts when we visited:
Paradise Bar: popular on Saturday evenings when it has a live band performing.
Blue Marlin bar: there was always a fun atmosphere at the Blue Marlin bar every evening after sunset as fellow divers compared notes over an ice-cold beer.
Gay Pride Labuan Bajo…ok ok, now we're just being silly…!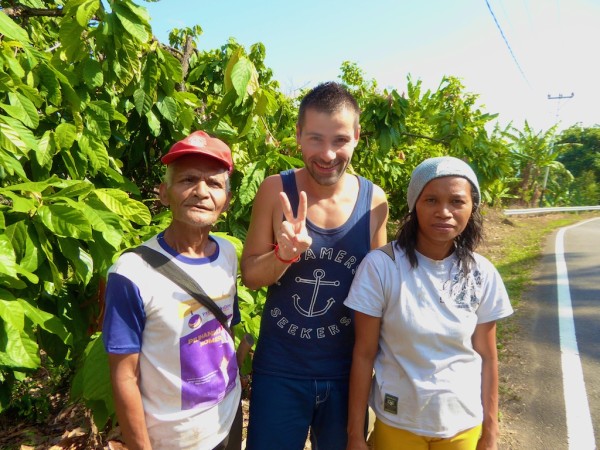 DISCOVER KOMODO NATIONAL PARK
The majority of people come to Labuan Bajo and Flores Island to see the Komodo dragons and for the diving. There is of course more to explore on Flores island, but as keen divers, the highlight for us was the underwater world.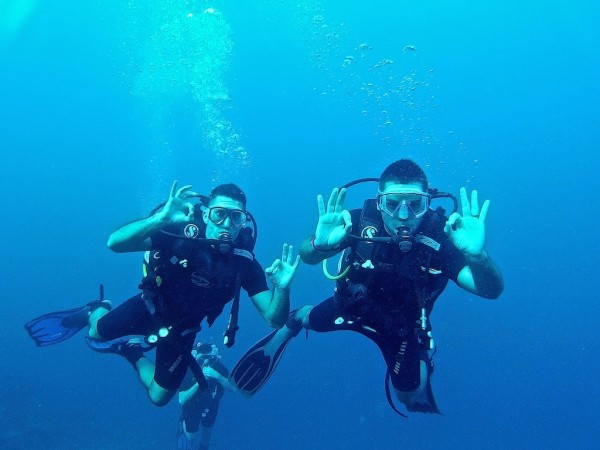 1. Diving in the Komodo National Park
The Komodo National Park was established in 1980 and comprises the waters and islands surrounding Labuan Bajo just off Flores island. It was declared a World Heritage Site in 1986 and has been well preserved since.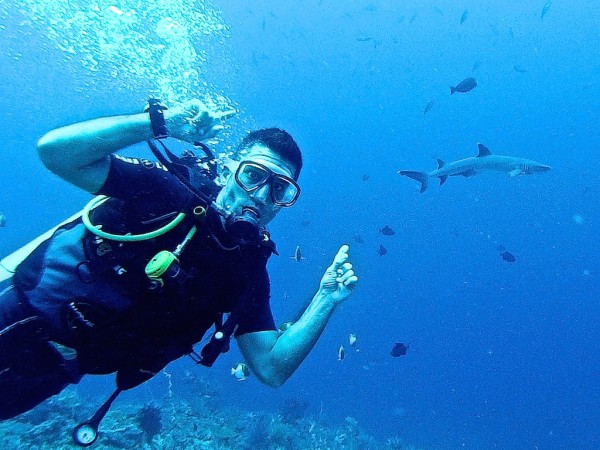 It forms part of the Coral Triangle, which contains some of the richest marine biodiversity on earth. It was also selected as one of the New Seven Wonders of Nature in 2011.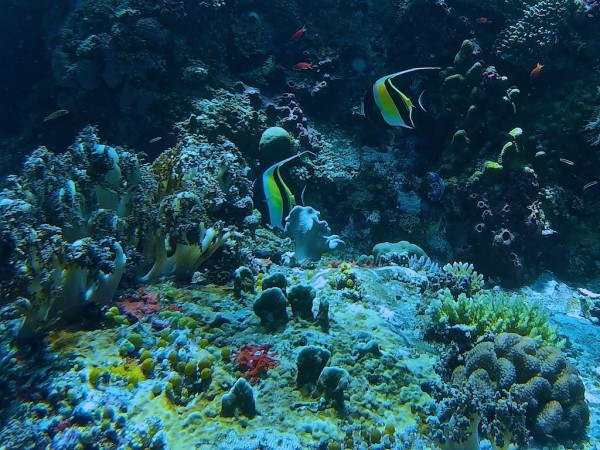 After all our diving experiences, such as our Open Water and Advanced courses in Koh Tao, fun dives in the Maldives and also in the Philippines, our experience diving in the Komodo National Park topped it all.
So be warned: after diving here, your expectations will be so high that subsequent dives will pale into comparison!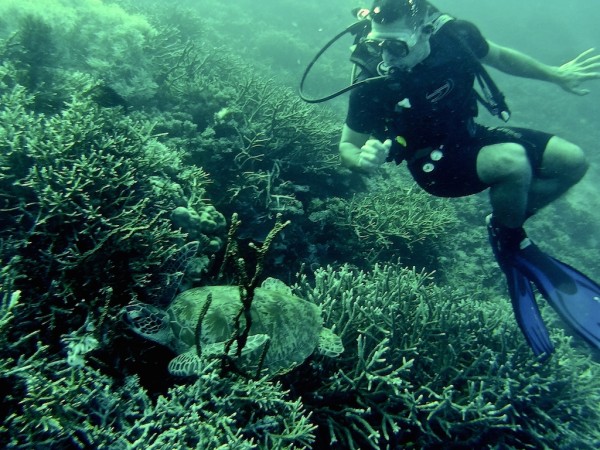 2. Meet Keith and Kenny the Komodo dragons!
The Komodo National Park is most famous for being home to the largest living species of lizard. We visited the Komodo Dragons on Rinca Island and met the very charming Keith and Kenny, the new Nomadic Boys!
Unlike Stefan and Sebastien, Keith and Kenny can grow up to 2-3 meters in length. They gained their nickname due to their dragon-like appearance and aggressive behavior.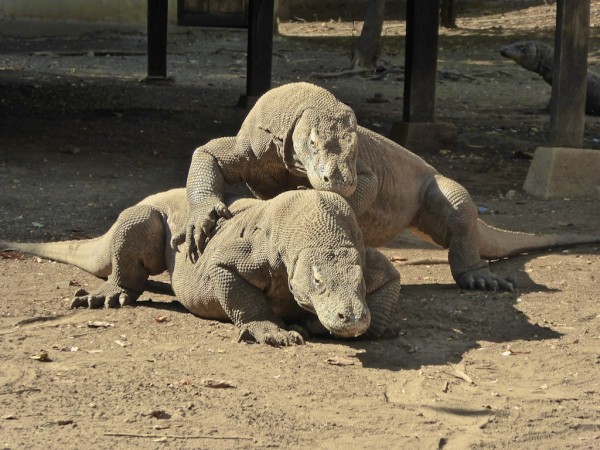 You can visit the dragons either on Komodo or Rinca islands. The tours are with the park wardens who know how to safely manage the dragons and will help you stage some excellent photos with them.