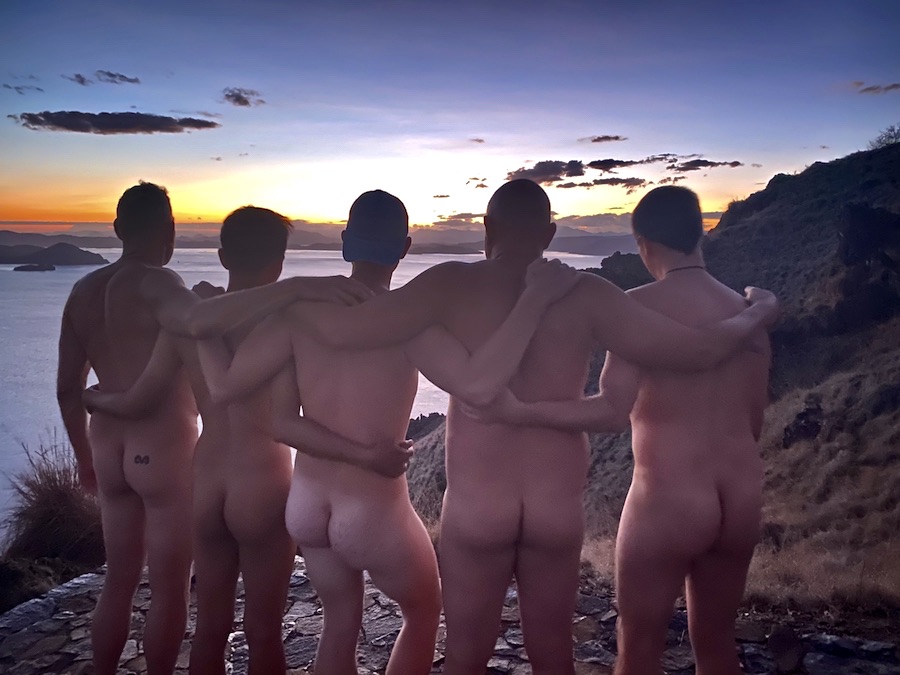 It took nine months to navigate through a whole new world, when it came to sailing again during Covid-19. We had to, unfortunately, inform our passengers that our April, June, July, and August trips would be canceled due to the ongoing pandemic. But then, for the first time in almost a year, we set sail again! Here at Everything To Sea, we were able to navigate the new rules set in place by different countries and here in Indonesia, get back on the water.
We came up with Covid-19 protocols based on these new rules (which seemed to change daily), and we finally got back to doing what we love – sailing naked! Read personal thoughts from owners Max and Dave, and the passengers, too – on what it was like to travel again after a long quarantine.
One of our fabulous travelers summed up our first trip in ten months with one word: "Wonderful, Wonderful, Wonderful." We suppose that is technically three words, but you get what we were trying to say.
With Indonesia's borders "mostly" closed, Max and Dave knew that getting to sail would mean working through mounds of red tape, new travel restrictions, and protocols that were implemented by the government. But they were determined… and their hard work paid off.
"Living through COVID meant living through a sailing season that almost didn't happen. Our daily focus – for nine full months – was constantly challenged, and therefore constantly shifted. From our travelers rescheduling and refunding their trips, to the unknown landscape of the virus, to country laws and changing visa regulations, to keeping abreast of the latest health findings, to the creation of protocols for future trips… it was a whirlwind," said Dave Power, co-founder of Everything To Sea.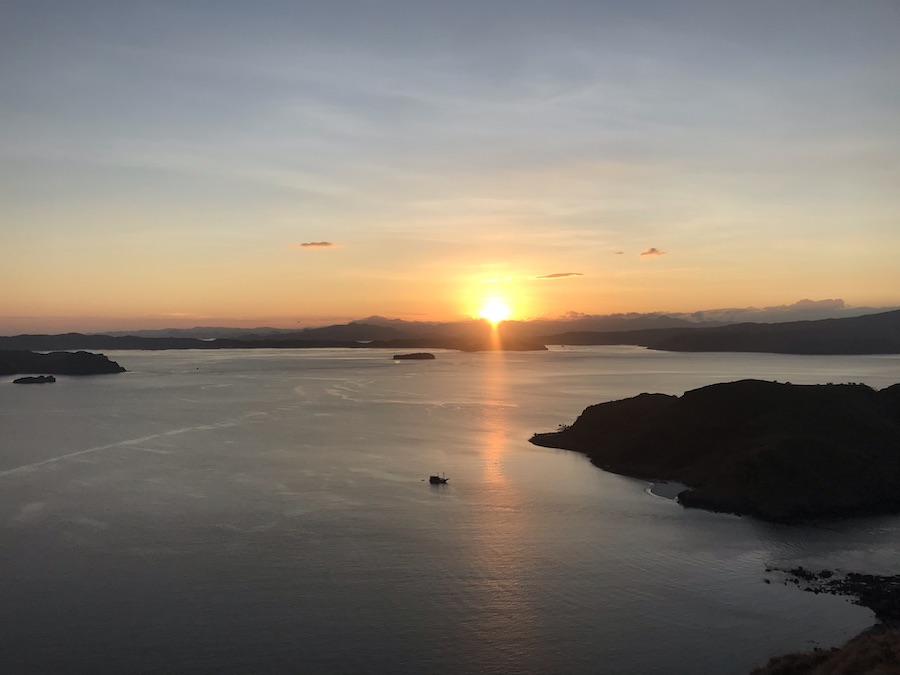 Dave said that he was just as excited as the guests were, to be sailing again. "It's such a crazy feeling, to crave being on a boat. And I didn't even know I'd been craving it."
Perhaps it had something to do with everyone being cooped up for so long during quarantine, but co-founder Max Strauss said, "The travelers were all very enthusiastic and open-minded, making this a great experience. Even if it sounds a bit cheesy, this was one of the best groups we'd ever traveled with."
You may have read reports from all around the world of nature being more vibrant, due to less tourism and traffic. From birds chirping louder than ever before, to wildlife becoming more noticeable. Dave said the abundance of wildlife was "one silver lining of coronavirus. I've never encountered more friendly manta rays while snorkeling. The dolphins were coming right up to us at the boat. So were the Komodo dragons, when we visited them. Good thing we always have rangers with us then!"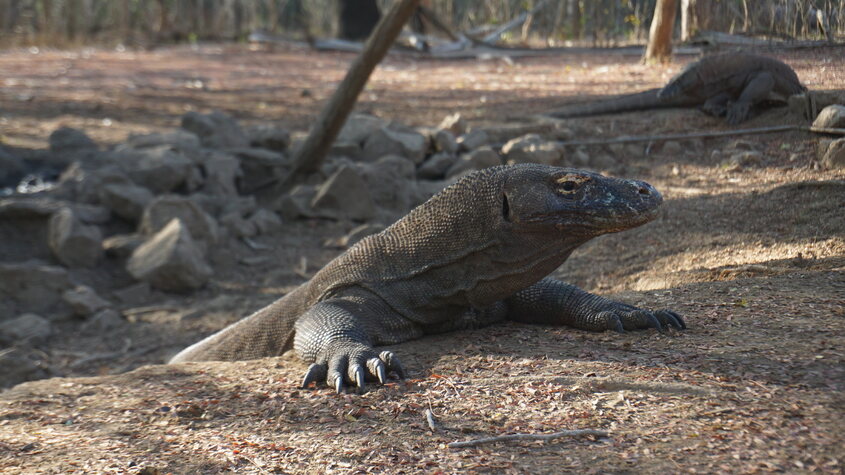 Max also shared a similar impression regarding the nature and wildlife they encountered. "Since we were almost the only boat operating, I felt the sea life was different. More turtles and fish than we've ever seen before. One of our travelers even spotted a Dugong (manatee) – which we never saw in this area before, even after doing countless numbers of snorkeling trips." He also mentioned that the coral, already known for being some of the most vibrant in the world, seemed even more vibrant (if that is possible.)
We've written in other blog posts about the sheer beauty of this region. Imagine it even nicer than the way they left it ten months ago…
Not only did the owners Dave and Max have to navigate through government red tape to get back on the water, but they were also working with a new crew. Even that part of the journey went swimmingly.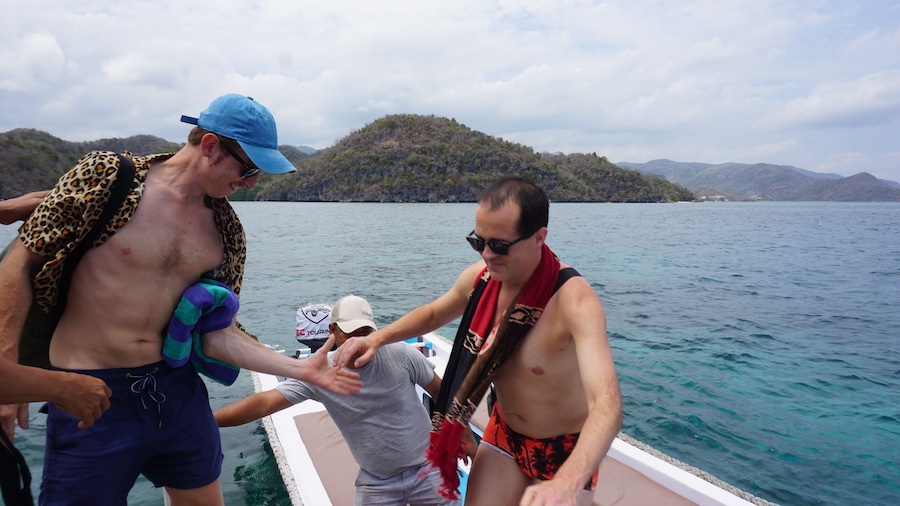 "This is always a very crucial aspect, besides the actual safe handling of our travelers and the itinerary itself. I was really impressed by the quality of seamanship and the support of the crew," Max said.
What did the passengers think?
Ace: "It was a great experience."
John: "Fantastic trip! The crew did a great job."
Chris: "The food was delicious – and the seamanship, excellent."
Ron, a Support Specialist for Everything To Sea, had never experienced a naked sailing trip before. He reflected, "I had always heard about how good it was to be naked on a boat, but now having experienced it in person, it made me more comfortable being nude around other people. And it was such a beautiful area. I would definitely love to go again."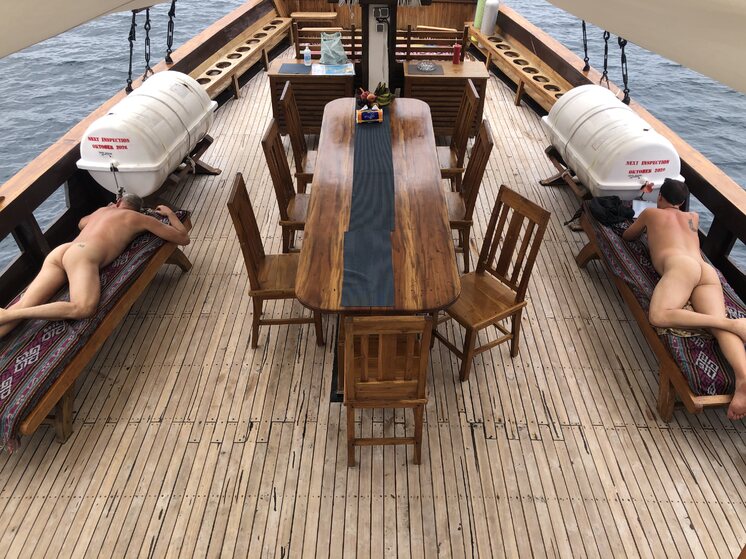 With the October trip sold out and many of our 2021 trips booking up fast, we can tell that many people are feeling the fatigue of a long quarantine.
The pandemic continues to evolve and we will continue to keep you updated through our newsletters and blog posts. Our updated calendar will show you sailing dates that are available. If you're feeling the dates on the calendar won't work for you, there is always Your Private Journey. This is where you pick a time just for you, privately, to set sail.
Since we've talked about nature, the food, the crew and wildlife, we'll leave you with this final quote from Dave about the guys onboard the ship:
"Everything To See took on a new meaning to me – but not only of the flora and fauna, but also of the men! Ooh la la, very satisfying. Wow, this was a fun trip – and I'm already craving our next one, around the corner."