There are dozens of reefs in the Coral Triangle that attract snorkelers and scuba divers alike. We've been sailing in the area for several years, and we've done an extensive amount of underwater curation. We take our travelers to the very best sites – some of which fly completely under the radar, unbeknownst to the crowds. In this blog post, we'll take you through the top five snorkeling spots that every guy on an Everything To Sea trip gets to experience – and yes, you can be naked, if you want. Please excuse the generic location names – we want to keep these reefs our little secret!
The men who join Everything To Sea trips come aboard with various levels of snorkeling experience. That's why our Group Leaders begin with a brief overview, to make sure everyone is well-prepared and comfortable. This takes place on a white sand beach, where men can enter the water at their own pace to try out the gear.
In the shallow water, Group Leaders assess everyones' abilities and provide assistance as needed. It's very relaxed, and we encourage guys to take their time practicing. Sometimes, harmless baby sharks will swim alongside the beach – a teaser of what's to come.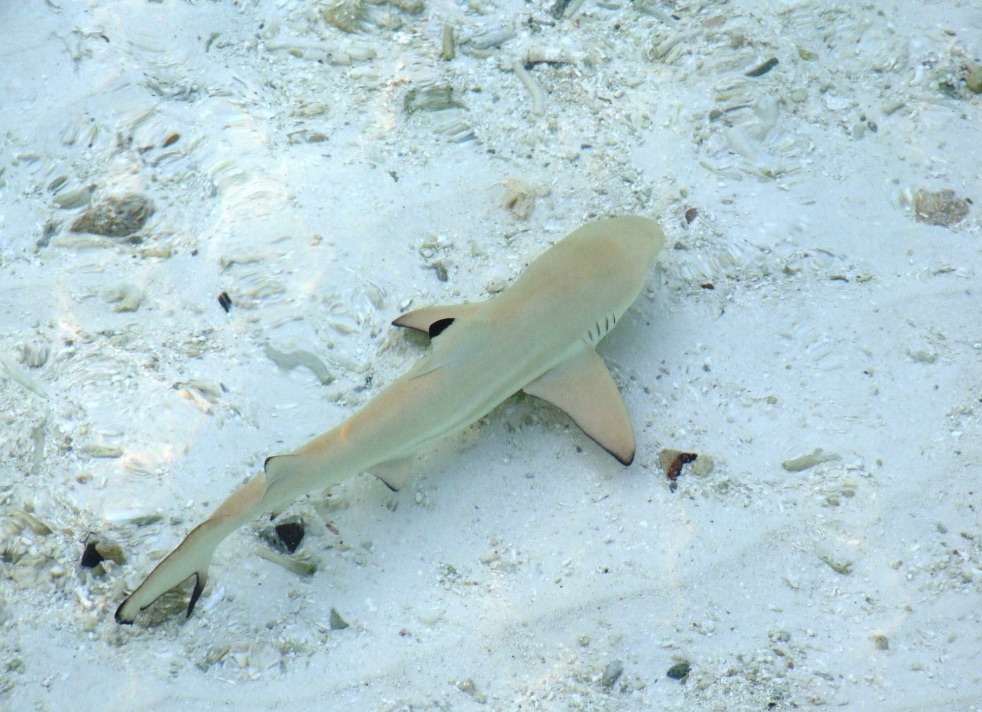 Snorkel Site #1: Coral Sanctuary
This is an area that's designated to coral re-population efforts, and it's had astounding success. Guys can observe coral colonies growing on human-made metal structures, some of which are in unusual shapes. The corals are grouped by color and variety. Coral is essential for marine diversity, and within these colonies colorful parrotfish, bright blue sea stars, yellow boxfish, and thick, dick-like sea cucumbers can be seen.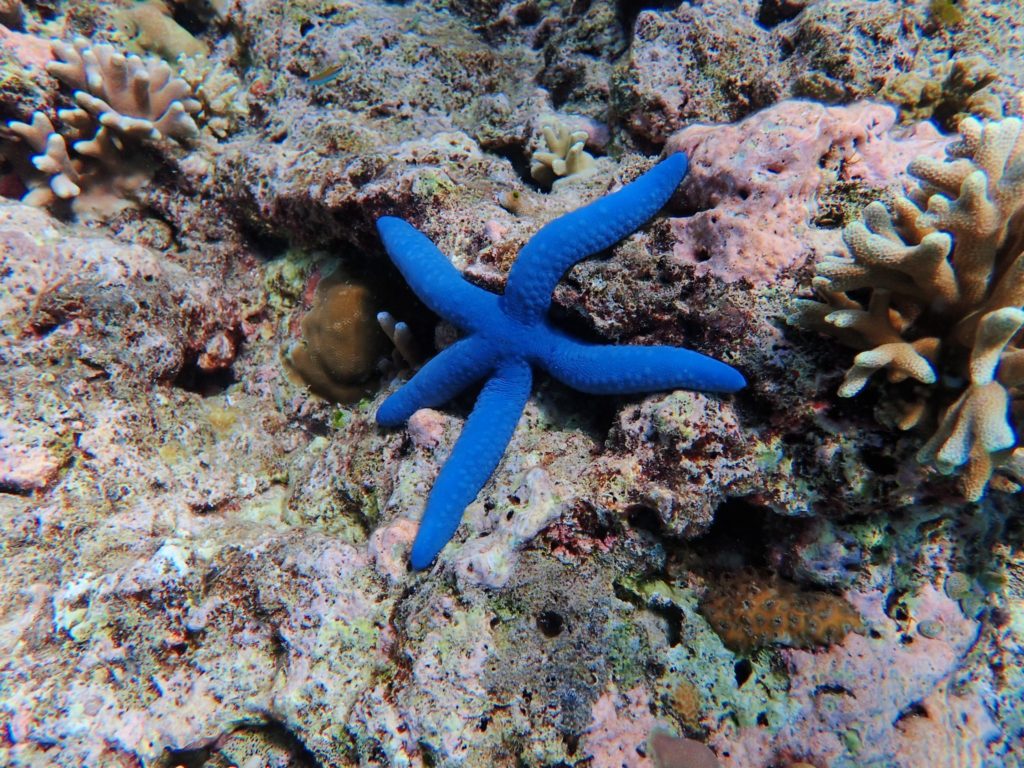 Snorkel Site #2: Turtle Point
At this snorkeling site, we go on a search for sea turtles. There are seven species of sea turtles in the world, and six of them can be found in the Coral Triangle. They're massive, which makes them hard to miss. For example, adult hawksbill sea turtles can weigh up to 150 pounds, and green sea turtles can reach up to 350 pounds. Still, they are gentle giants that can be found resting on the sea floor or gliding up to the surface for a breath of air. This site also boasts gorgeous brain coral and clownfish, the latter of which guard their sea anemone homes, with their young hiding inside.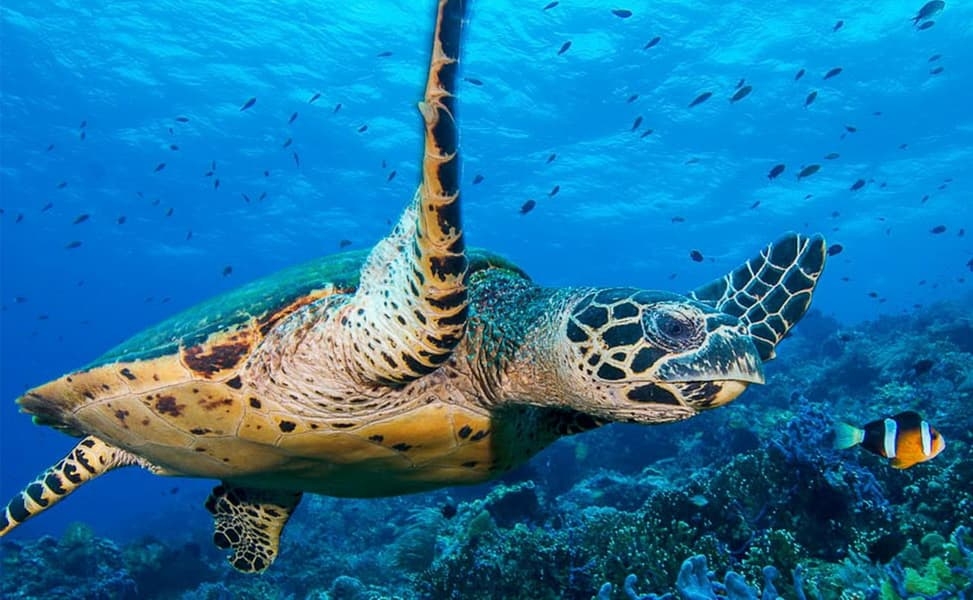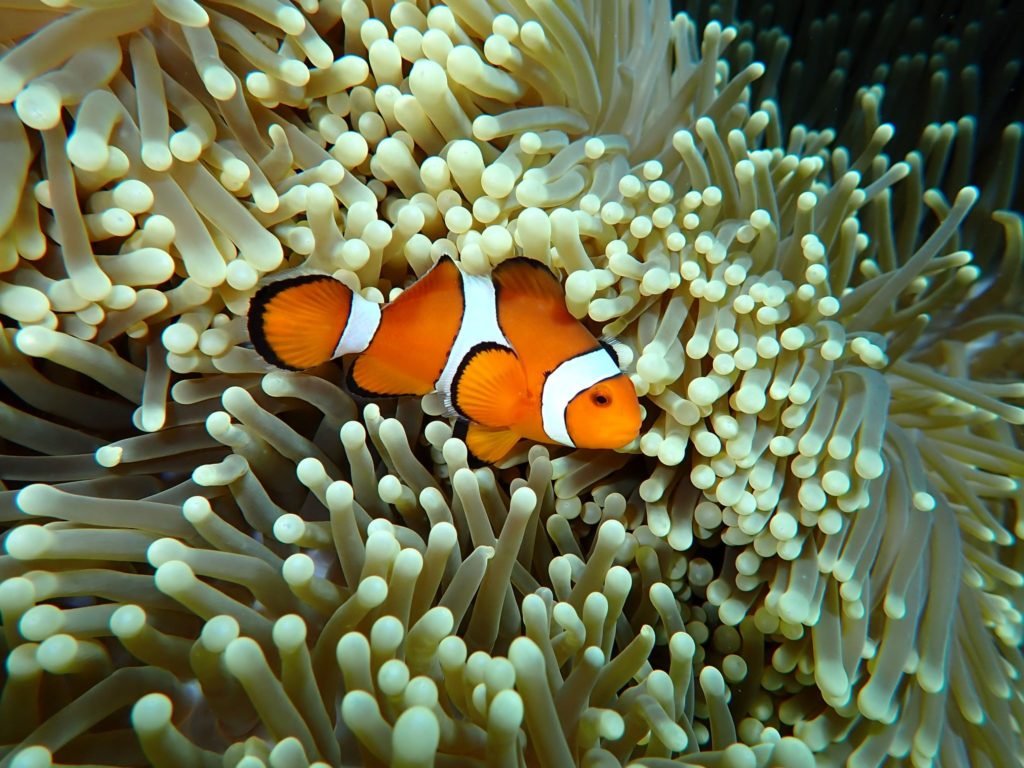 Snorkel Site #3: Beach Reef
This is where guys enjoy relaxed snorkeling, from the boat to the beach – and back, if they want. The water is an idyllic turquoise color, which makes the pink beach pop. Yes, you read that right – the beach is literally pink. This rare phenomena is the result of pipe organ coral. When these corals break down, their red exoskeleton washes ashore and mixes with the white sand to make a pink color. Snorkeling here, guys often marvel at the unusual species of coral, amazing crustaceans, and the overwhelming amount of pristine shells that can be collected on the beach.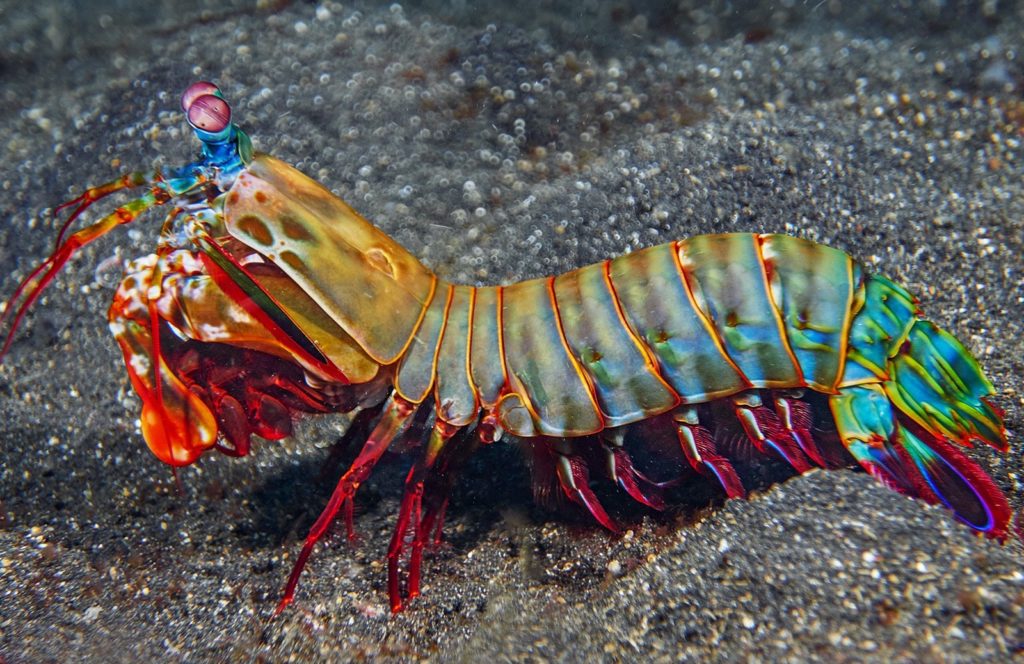 Snorkel Site #4: Manta Point
This site has deeper waters, suitable for manta rays. Though these gentle giants have a long tail, they don't have a stinger, rendering them completely harmless. Not to mention, their diet is solely made up of plankton. Normally they congregate in small groups to feed, so if we're lucky to see one, there will likely be more. There's also an optional section for snorkeling amongst larger corals. Occasionally, we can see timid lionfish, reef sharks, pufferfish, and even octopus.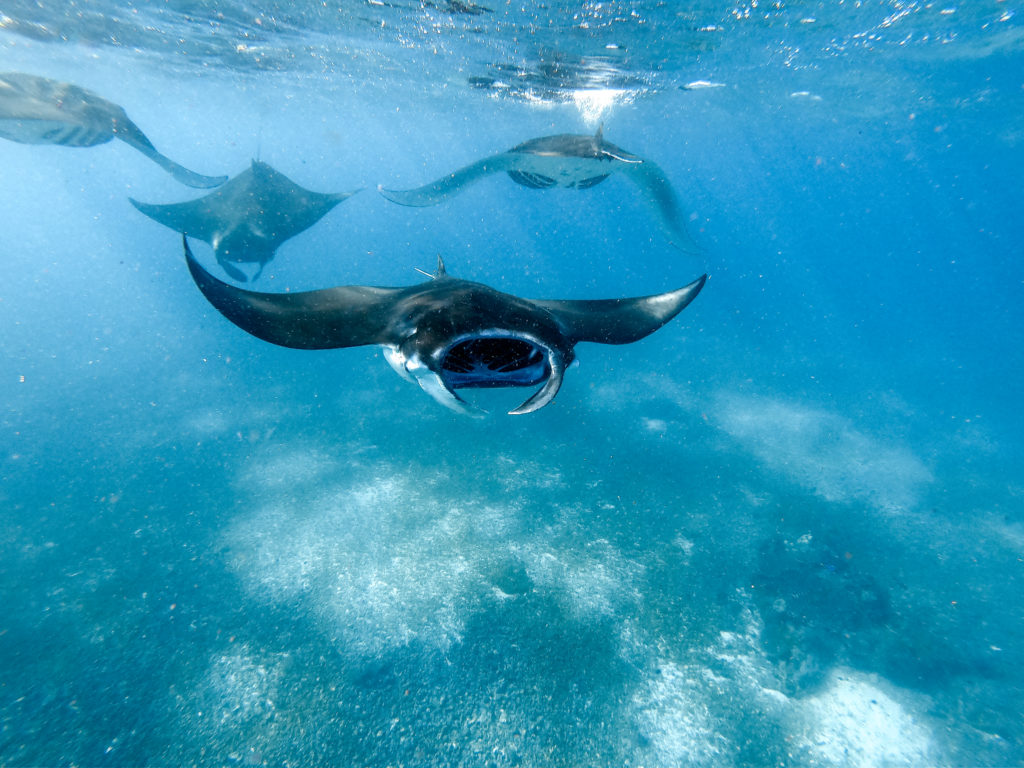 Snorkel Site #5: Reef with a Dock
The diversity of fish at this site is unbelievable. We've seen cuttlefish, batfish, and blue-spotted ray fish, to name a few. Besides these superstars, there's an abundance of small, colorful fish – as well as larger pelagic fish such as tuna and mackerel. From time to time, we can observe larger reef sharks peacefully passing by. For some reason, there always seem to be rare fish hanging out under the dock, like Dave's favorite: the vertically-poised razor fish, resembling floating leaves.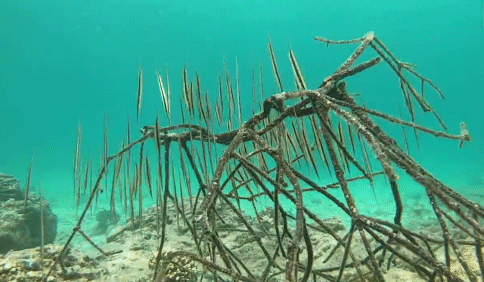 We came across this curious cuttlefish, on our last trip there: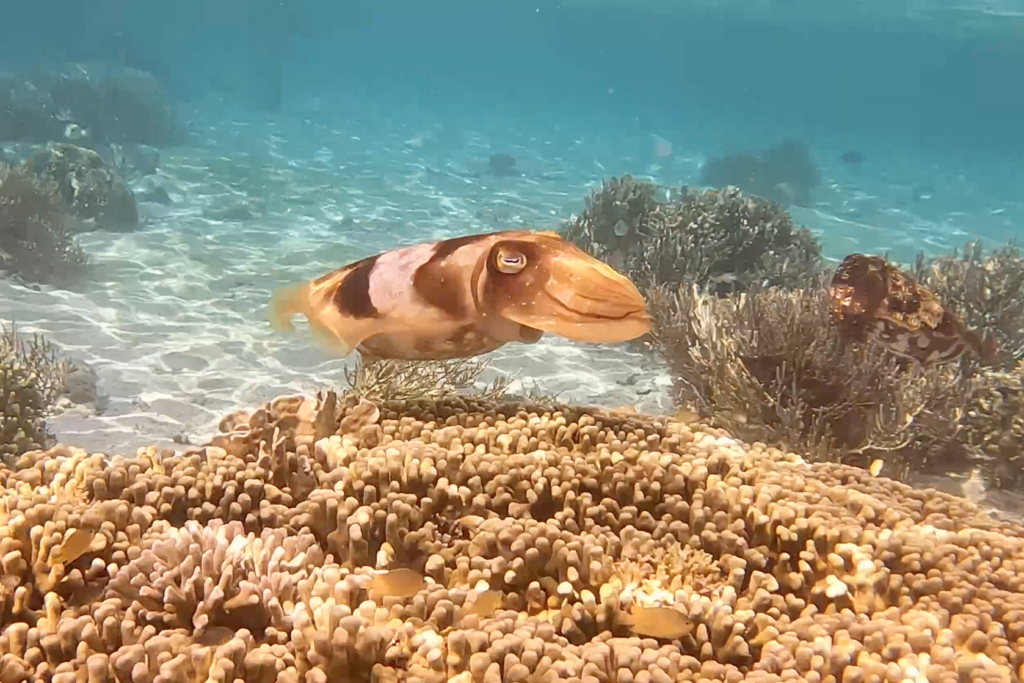 There's so much to discover while snorkeling on Everything To Sea trips.
After each underwater visit, we debrief together on the boat, poring over marine books from our library which detail the sea creatures we've just seen. It's always fun to identify them, and we love educating our travelers about ocean life. We love learning about new creatures ourselves, too. It's nothing short of mind blowing!
To fully understand this magical experience, come aboard and snorkel for yourself. Have you snorkeled before? If yes, what did you see? Let us know in the Comment section below.