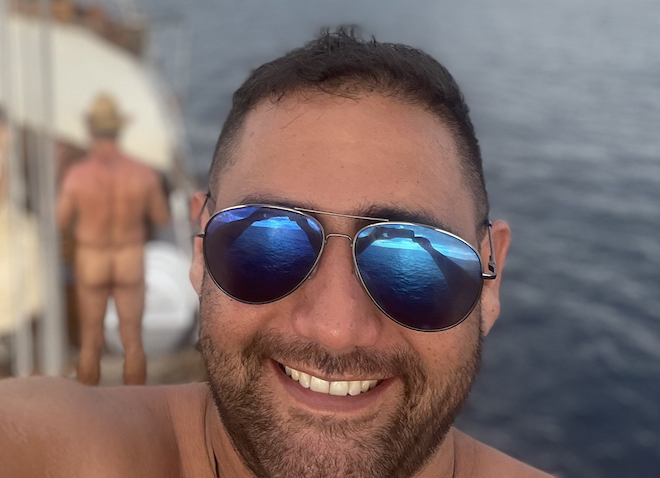 We really enjoy getting to know the guys who join our trips through deep conversations. We'd love to share this honest conversation between Everything To Sea and Ric, a traveler who came aboard our boat in October 2022. Ric is a freight operations manager (choo-choo!) who loves spending his free time camping naked in the bush of Australia. He inspired us with his story and we'd like to highlight him in this post as part of our blog series called "Meet Another Everything To Sea Traveler."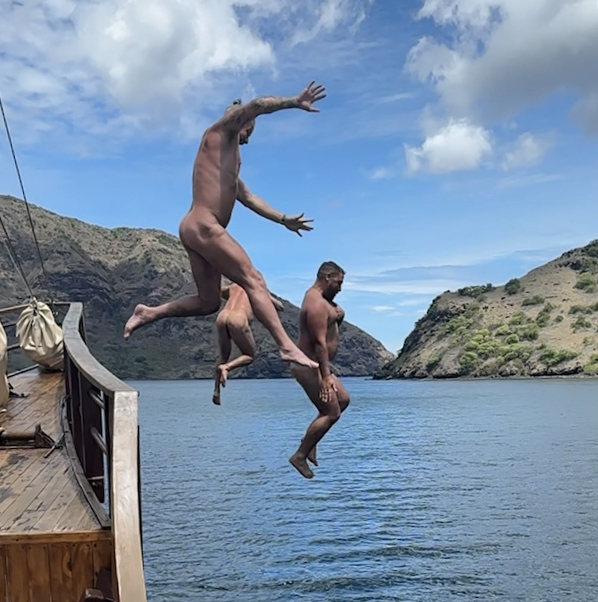 Tell me about yourself, Ric?
Ric: I'm from a little place called Broome in Western Australia – it's very remote. Although I was born in Australia, my parents are Kiwi. So I spent a lot of time in New Zealand growing up. Today, I'm a freight operations manager, with a team of over 200 people.
What is a favorite way of spending your days off?
Ric: In my four-wheel drive, heading bush to remote places, setting my tent up, getting my kit off, and just chilling out – beer in hand, the bush around me, serenity…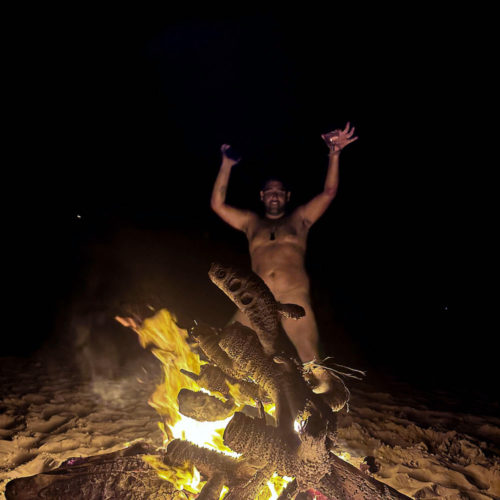 Do you get naked there?
Ric: Absolutely. It's probably one of my favorite things to do. There's something so liberating about being remote, naked, back to nature.
What is a song that always gets you out on the dance floor?
Ric: Anything Tom Zanetti. He's a British club rapper. His music's got very sexual beats, and the lyrics are very sexual in nature.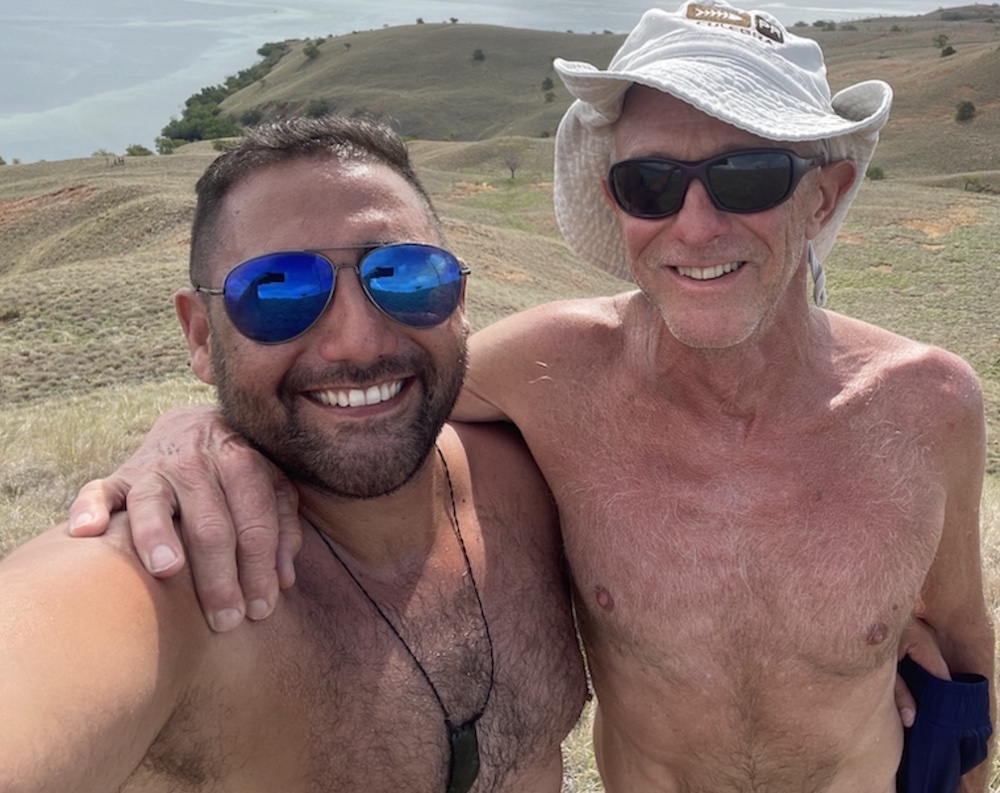 What activity instantly calms you down?
Ric: Swimming. Every time! My people are ocean people. I get in the water and I get a lot of energy from the water.
If you're stranded on an island, what's one item you'd bring?
Ric: Either a spear or a fishing rod. Cause then I can provide for myself. Maybe some lube as well – haha!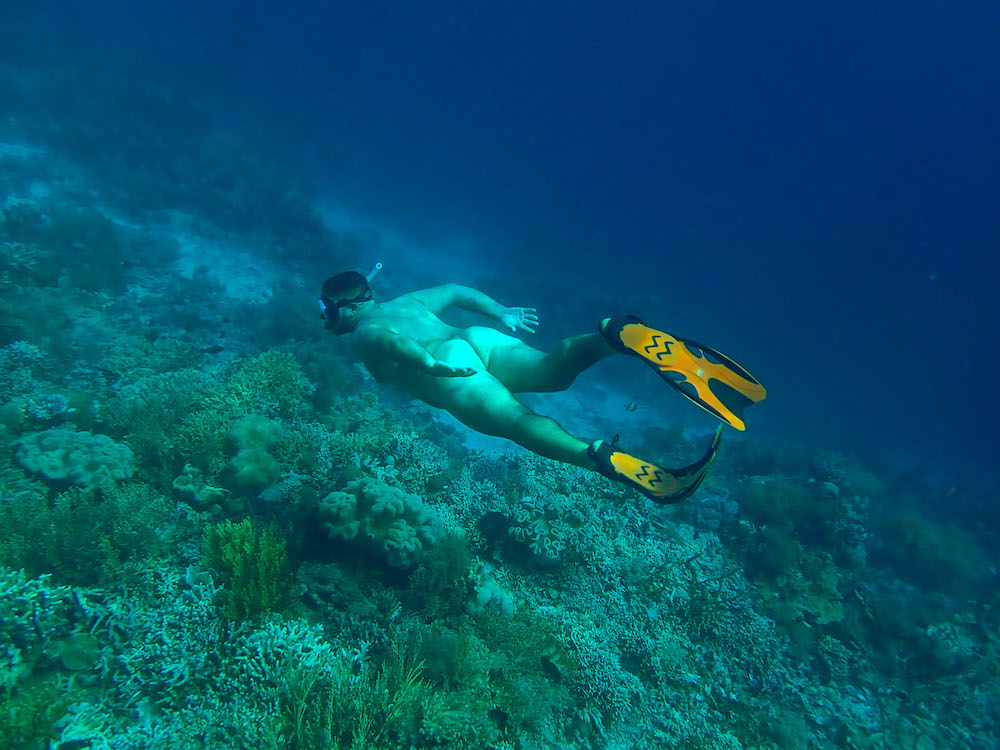 What is your experience with nudism?
Ric: Mostly by myself. I have always been very shy about taking my clothes off around people. I love to be naked all the time – love it! But I grew up with the taboo in my head that being naked around people was very sexual. So yeah, this trip has made me realize that being nude has nothing to do with being sexual and I think I'll be far more comfortable being nude around people now.
That being said, I think there was a lot of sexual energy between everybody. Definitely. But I think that men are automatically very sexual beings. So a lot of the sexuality on the ship – rather than it being about an all-out sex fest coming on here – it's about tapping into that energy and bonding in a very manly way.
How was the body shaving for you?
Ric: It was exceptional. Definitely a first-time experience for me, and I didn't know what to expect. Also, allowing someone to do that to you… I had to push myself with the trust. Like, I know I come across very confident and "just-get-in-there-and-do-things." But inside, I'm soothing myself like, "Ok cool, you can do this, it's all good." And we'd also had such a strong bonding conversation on the second night. We shared and discovered things about each other, which helped me to build those trust levels.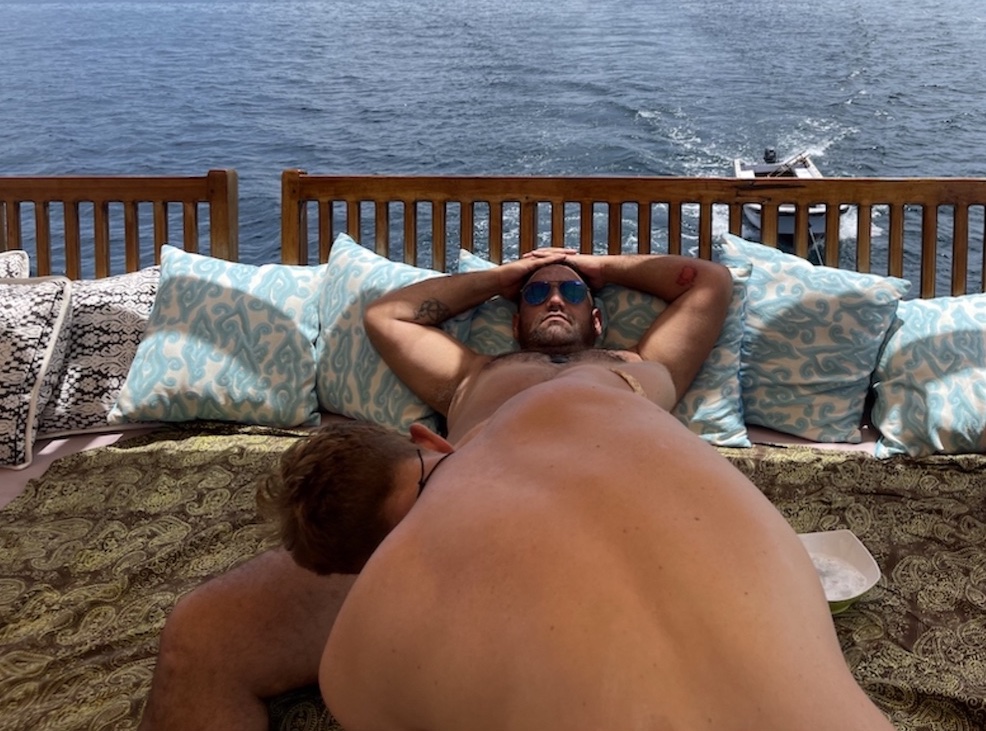 Were you scared before coming on the trip? Or hesitant to book?
Ric: I was worried it would be completely sexual, and that I'd come on the trip and I'd be chased around by a group of guys wanting something that I might not have been willing to give. And that's been an awakening for me the whole trip. It's realizing that being nude with other people isn't just about sex. Sure, it can be, but it doesn't have to be.
Did anything happen on the trip that surprised you?
Ric: Besides the nudity aspect, I think this whole region has 100% surprised me. I've come to this country 38 times. I thought I knew it really, really well. I thought I knew what to expect in terms of what it looks like, how it feels, etc. But this whole area has just blown me away.
Another thing that surprised me is the genuine camaraderie between the guys. I've been on small ships before and often there's a lot of disconnect between the passengers. But this time, it felt more like we were family.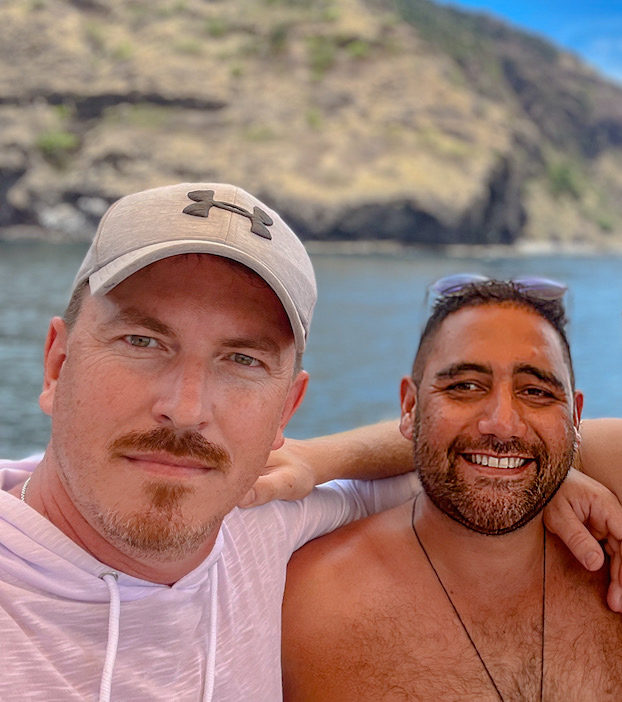 What's your favorite memory of the trip?
Ric: When we took some naked pictures together. Snorkeling as well. And of course, seeing the wildlife.
I would add… it was a stroke of genius for you guys to say, "Let's go into the local village." I loved living vicariously through some of the guys who have never been to this part of the world and have never witnessed that level of poverty. The village was dirty, but the local people were exceptional. I loved seeing the kids dancing and preparing for a festival. I noticed there was pain on some of the guys' faces when we were about to head back to the boat. I asked them, "Hey, are you guys alright? I can see what you've just seen is hurting you." They said, "We just haven't witnessed anything like this before. People shouldn't live like this." I said, "You do realize these people are happy, don't you?" And this took us into a deep conversation about what makes human beings happy. It was a powerful moment for the group.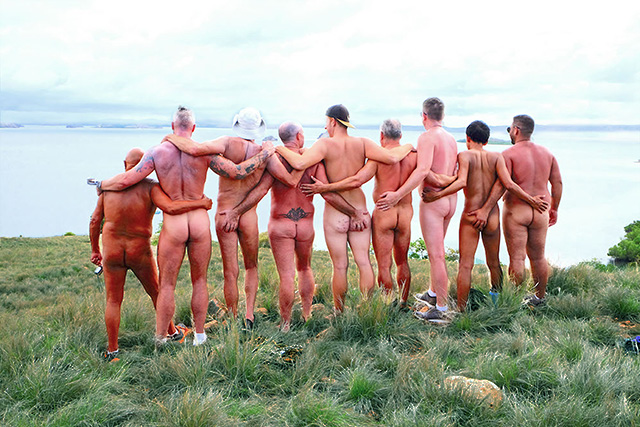 What is the most interesting thing you saw in nature on the trip?
Ric: The cuttlefish. I've never seen one in real life and from what I understand, they're very, very rare to see – and it blew my mind. Along with the lionfish. Those too — cause they're rare to see as well. The way they change color, the way they move, and look...
What would you say to someone who's on the fence of joining the trip?
Ric: Put yourself out there. Challenge those boundaries that you have. Everybody on the trip, whether it's the guests or the hosts, is going to offer you a level of care that you'd never get on any other trip in the world. Like, it's very supportive, and even though you might feel nervous about it, there's not a moment on board that people judge you for any of those anxieties.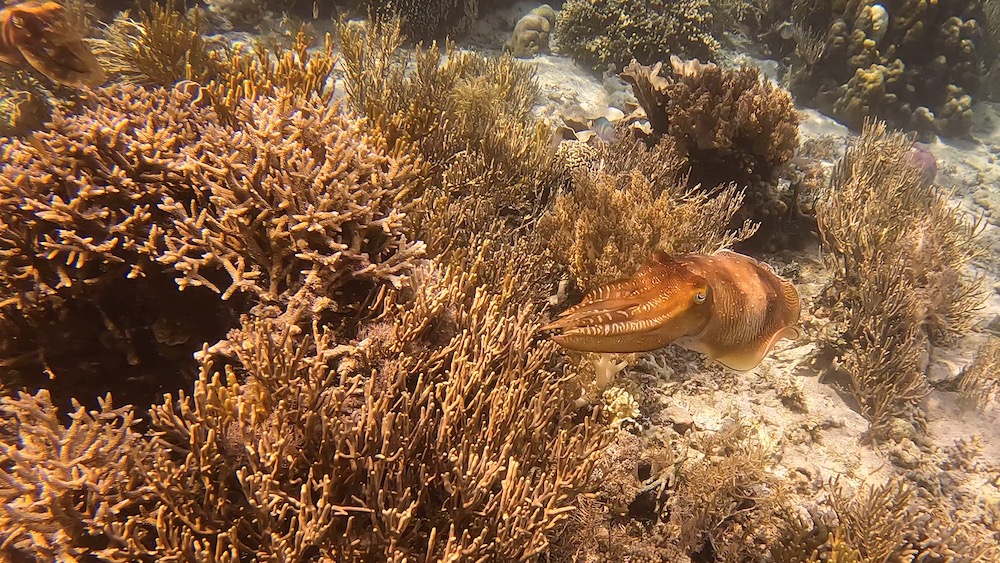 What were some of the anxieties you had?
Ric: I exhibit a lot of confidence I think, as a person. But there's always things going on in my head. And having never done this before, being on a nude trip with a group of strangers, the anxieties in my head were: "Are people going to like me? Are they going to judge me? Like my body, my appearance, and how I present myself?"
To be honest, I use clothing quite often in my everyday life to hide my insecurities. I come from this world of freight operations, and it's a very macho industry. The clothes you wear absolutely show who you are. But when you strip off those clothes, suddenly you're a completely different person… different than that person you have to be in everyday life. That's probably where my anxieties came from. That people would see the real me, and somehow make me feel less than for it.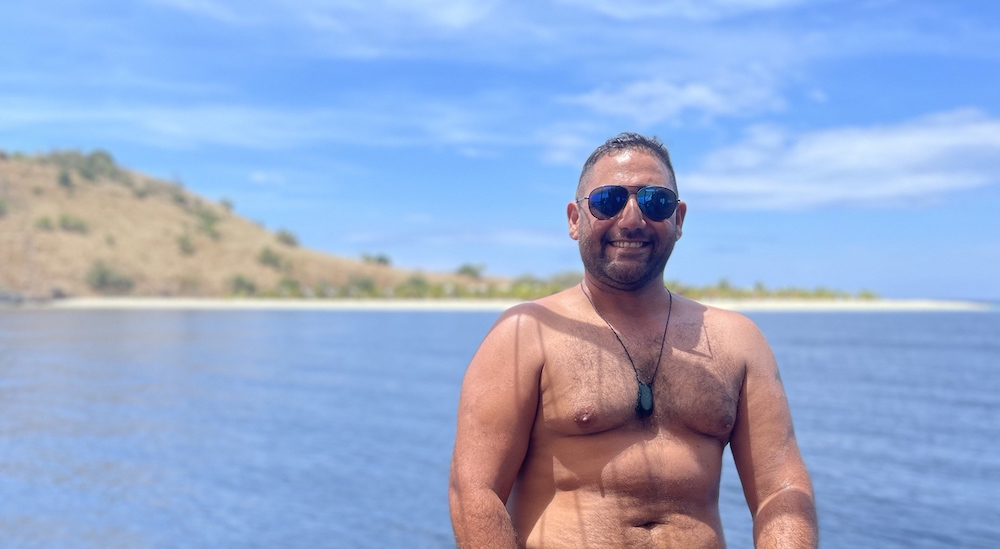 Thanks for sharing this inner world of yours. Anything else?
Ric: The two Group Leaders on the trip were very beautiful, haha! Also, the local crew is so calm and collected. They know their job and they do it efficiently. They don't ever look at any one of us with judgment, despite the fact that nudity is not their way of life. You know, from yourself and from the Everything To Sea team, we expect that calm understanding because you're our hosts. But when you look at the local crew, it's not their way of life, but I don't think anybody on this ship at any moment believed the crew was judging us. They made our trip – definitely!
Thank you Ric!
Well there you have it! Isn't Ric such a cool guy? And if only you could hear his Australian accent – it really lays on the charm! It was such a pleasure to get to know Ric last year, and we're very excited to welcome him aboard again soon, as he's already signed up for another sailing trip. If you enjoyed this interview with an Everything To Sea traveler and would like to see more, be sure to let us know in the Comment Section below.