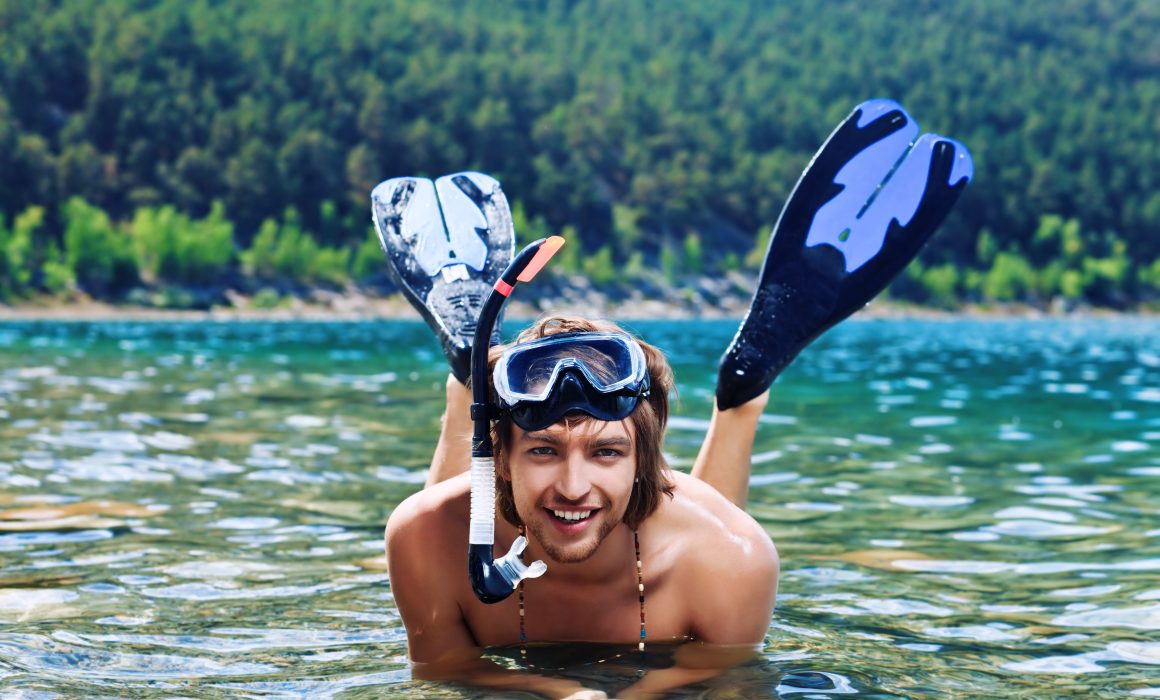 Sometimes we're asked if cruises provide snorkeling options. We are EVERYTHING TO SEA, so it'd be crazy if we didn't! Especially because we're sailing in part of the famous Coral Triangle, dubbed "The Amazon of the Seas". Picture a beautiful landscape under the sea, rich with marine plants, gorgeous coral, and the greatest diversity of coral reef fishes in the world.
We highly recommend snorkeling during our trips to our travelers. Not only is it "The Best Place on Earth" to do so. It's also really easy to do. And, the water temperature and clarity are truly ideal. You should expect breathtaking views – including some other naked snorkelers! Although whales may be hard to spot, you'll probably see some "free willies" flopping around.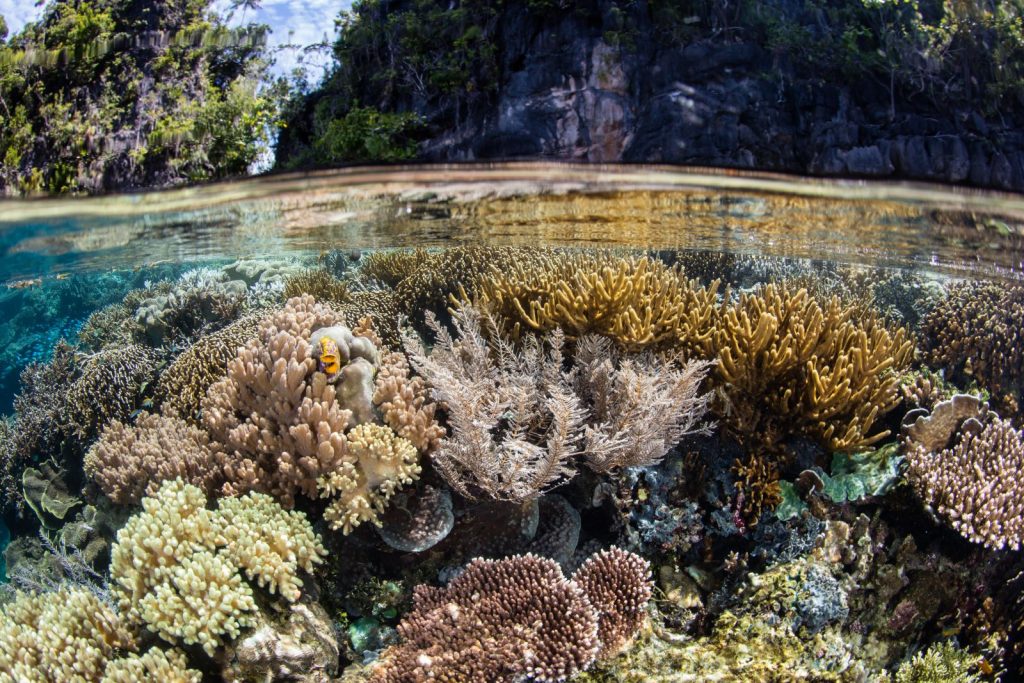 If you haven't snorkeled before – or if you haven't done it in a while – rest assured that in the Coral Triangle, it's easy to do so in a safe manner. And on every trip, we're able to give special attention to up to two guys who might want extra guidance. This means every time you're in the water, you'd have the direct attention of one of our staff as your own personal snorkeling buddy. First-timer? No problem – we'll begin by showing you how to snorkel in a spot where you can stand, just off the beach.
Snorkeling gear such as masks, snorkels, and swim fins are provided on all of our trips. We have traditional snorkel masks that cover the eyes and mouth, and also full-faced masks (as shown in the last picture in this post). If you like, you can also wear life jackets. There's no shame in wearing one, by the way… especially if they can make you feel more confident. We want you to have fun! Many guys who've traveled with us hadn't snorkeled before – we've taught them how to do it properly. It's both a fun activity and a true bonding experience.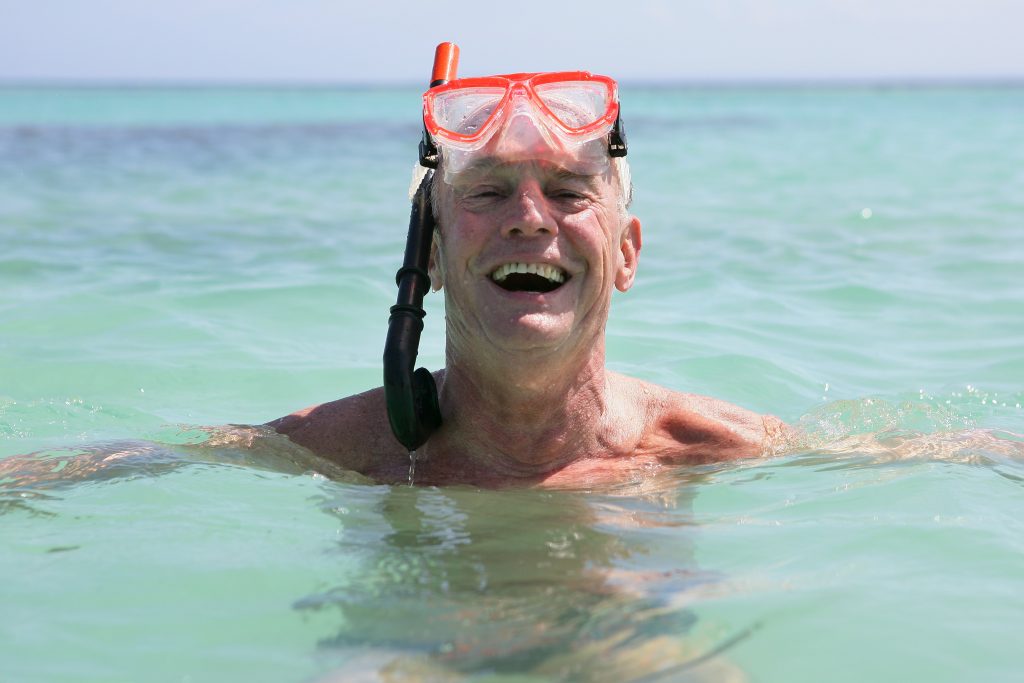 So why should you snorkel in the Coral Triangle? Well, seventy-five percent of the world's coral species are found here— that's nearly 600 different species. It boasts over 3,000 species of fish, six of the world's seven marine turtle species, and underwater gardens that'll make you feel like you're in the movie Avatar. Snorkeling's an easy way to experience its underwater beauty. And unlike scuba diving, you don't need to get a certificate or complete a course to do it. How fun would it be to go snorkeling on some of the sweetest, most beautiful spots on the planet, stark naked – just like the fish?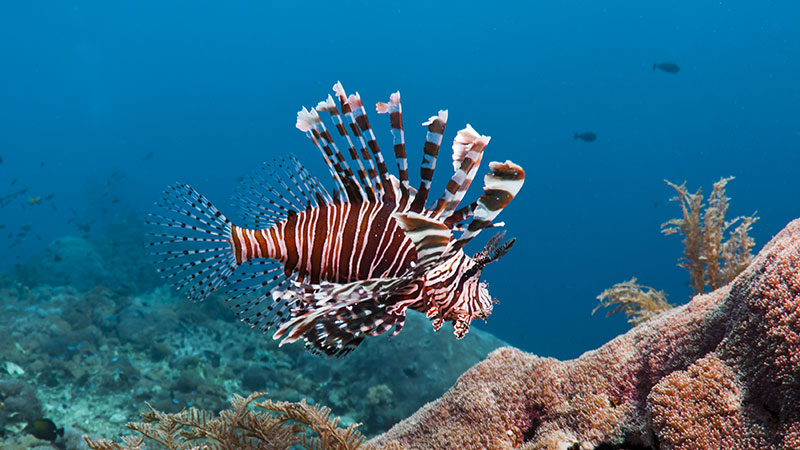 In order to have great snorkeling experiences, it's good to keep a few things in mind. For that, we've compiled some tips about snorkeling from different websites, including Sandals.com, CoralNomad.com, and SnorkelTrips.com.au.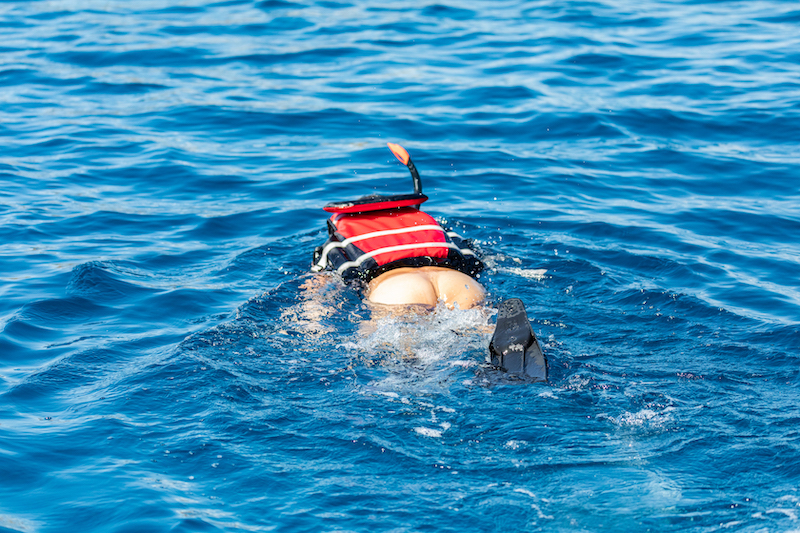 Preparations:
Snorkeling is mostly floating – not swimming. If you're not comfortable floating, consider using a life jacket – many guys do it!
Get mentally prepared a few minutes beforehand, by taking the time to relax both your body and your mind.
Be sure the equipment we're giving you fits right. Masks and swim fins shouldn't be too tight.
Defog your mask just before going into the water, with baby shampoo that we bring along (this will ensure best clarity for viewing).
Wear reef-friendly sunscreen. Sunscreens made with zinc oxide and titanium dioxide are mineral-based – and therefore won't harm delicate coral reefs.
Practice breathing in and out through your mouth – instead of your nose. Remember, once in the water, you'll have the mouth part of a snorkel there. Isn't there a saying somewhere, about a skilled man being one who can keep a snorkel between his lips?
Take a deep breath before entering the water. You can either jump from the boat or use a ladder to get in.
Never dive headfirst into the sea, as the mask isn't designed to withstand this kind of impact.
If you like snorkeling with a buddy, you guys can hold hands (or other body parts) and have fun! If you're the kind of guy who prefers to snorkel by yourself – that's fine, too.
Look at everything, but don't touch anything. Creatures in the sea aren't interested in you – but many fish and corals have toxins that they'll emit when touched. It's important that we don't directly interfere with marine life.
Know your limits, and exit the water if you get cold or tired. It's important not to overextend yourself.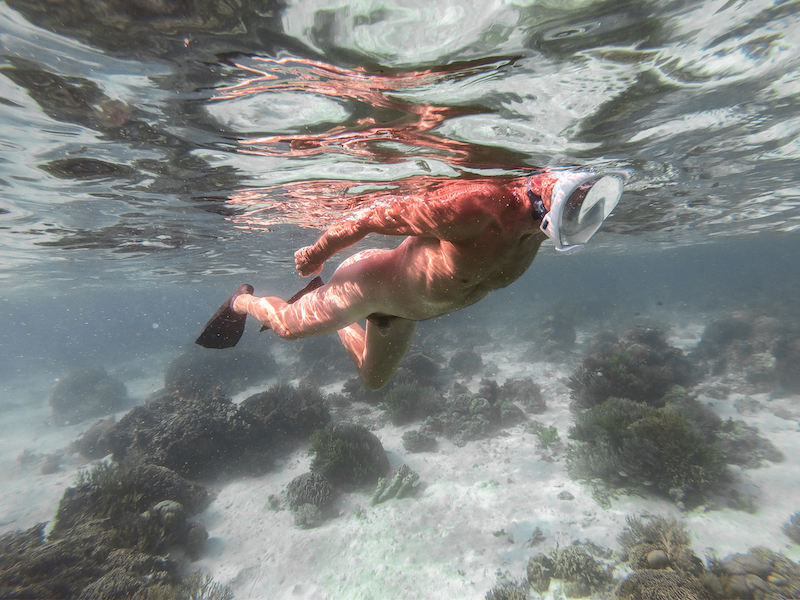 We hope the tips provide a basic idea about snorkeling. But the best way to snorkel is… to snorkel. Everything To Sea provides not only the equipment for snorkeling and one of the best places to do it… but also instructions on how to do it well. Come join us – under the sea!